Experience the Swedish West coast
Welcome to Kungälv, formerly called Kongelf. This is a small historical town located right upon the north border of Gothenburg. Come visit us and you will discover a ruffling history, magnificent scenery, fresh air, hiking trails, lakes, salty seas, small town shopping and big city pulse.

395 SEK/person (3 hours)
Our two wheel date package includes: Bicycle rent 3 hours, picnic blanket, a small speaker (we have prepared a playlist with the right kind of music for you), picnic basket with Swedish junkfree "fika" from Kafé Kongelf and instructions for a proposed bicycle route. You also get some tasks to do along on the way to talk about and strengthen your relationship.
Everything you need for a perfect moment in the name of love.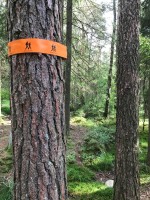 When you arrive at our place, you're practically already at Bohusleden. The trail of Bohusleden section 6 (Angereds kyrka - Fontin) is actually on the pathway that goes right beside by our driveway. Your journey starts and when you reach the church in Kungälv (just 300m from our place) you go right and stay on Östra Gatan to get to Fontin. Look for orange markers on lamp posts etc.

Section 7 of Bohusleden (Fontin - Grandalen) starts by the outdoor center in the nature reserve Fontin (approximately 2 km from our place). The trail continues to Grandalen through forest paths and gravel roads. When you reach Grandalen, you have arrived to the nature reserve Svartedalen which is famous for its mysterious wilderness. This area is also known for fishing. Bohusleden section 8 (Grandalen - Bottenstugan) also goes through Svartedalen nature reserve. This section goes right by the border of the municipalities of Kungälv and Stenungsund.

Tip! Approximately 2 km from Grandalen you will find the nature reserve of Lysegården in Diseröd. In Lysegården, there's a waterfall right by Vallerån that you can see by Lysegårdens golf club. The waterfall is about 38 m high and is really beautiful!
From our place, it's barely 4 km to the start of Pilgrimsleden section 4 (Jennylund - Starrkärr).
Pilgrimsleden Göta älv starts by the church in Masthugget in Gothenburg. However, the trail is not marked until you reach Nylöse church so the first part of the trail is a great opportunity to discover Gothenburg! You find Nylöse church in Gamlestaden (Gothenburg) and then the marked trail begins. You'll walk along Lärje river and through Vättlefjäll nature reserve until you reach the forests of Ale. In Lödöse, you'll find a historical junction with a museum. The path continues all the way to Vänersborg where you can continue your journey on the pilgrim trails in Dalsland. You find more information here.