Exam, birthday party or family gathering?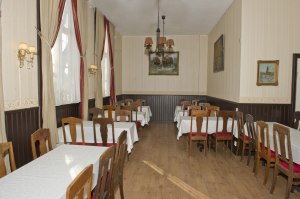 Our beautiful dining room as room for 40-45 persons. The price varies depending on what type of activity you're planning.
Included in the price
Crimson jaquard table cloths
Kitchen china/cutlery for 50 persons
50 glasses
50 champagne glasses
5 trays/serving dishes
5 bowls
5 pitchers
Serving cuttlery
20 small candle holders
3 vases
Student exam or babtism 1000 sek incl VAT
Access to dining room 1 - 8 pm
You tend to yourselves. Kitchen and dining room is left the way you found them.
If you want us to do the final cleaning the price is 1000 sek and must be booked in advance.