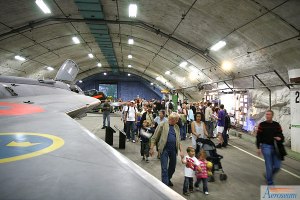 AEROSEUM - an internationally unique exhibition. Inside a declassified Swedish Air Force bunker carved out of solid rock, you will be able to take a jurney the History of flight.

The site is filled with flying xperiences for young and old, men and women. You can look, listen and touch as we restore and fly vintage airplanes and helicopters. You can even take to the skies with us!

Aeroseum is lcated only 15 min from Göteborg city centre and is a continuosly, live installation.

ACTIVITIES

Step in to the 22 000 m2 large, underground mountain hangar from the 1950s. Built to protect the Swedish Air Force's airplanes against nuclear attacks.


There are more than 30 airplanes & helicopters on display from your childhoods fantasies to the modern day jets. Even engines, rocket chairs and other equipment are there for your viewing pleasure.


Want to know what it's like sitting inside the Dragon, Vigg or choppers?


Try our flight simulator: Commanche or fighter plane Vigg (fee)


Climb throo the engine room of the Vigg.


Try what it feels like to get winched up by a rescue helicopter


See the exhibition about the Cold War, the makings of the hangar, and a dramatic emergency landing during the Second World War.


See how we restore old veteran airplanes


And much much more!


CAFÉ & SHOP
In the café "Markan" you can buy coffee, pastry and more to affordable prices. In the shop you can by souvenirs, books, movies and more.
More information can be found at www.aeroseum.se.