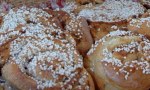 Fru Snoosa's Breakfast Café
Situated inside the guest house. Coffee, pastry and sandwiches.
Breakfast buffé during high season 8-10 am.
Ph: +46(0)303-18900

Fästningsparkens Gatukök
50 m from the hostel:
Classic fast-food with hamburgers, saussage, ice cream and more.
Open all days a week.
Ph: +46(0)303-12663

Café Mors Mössa
Nice café with a lovely garden.
Situated just below the fortress next to the old marina.
Moodys
Café & Kitchenware.
Västra gatan 12, Kungälv.
5 min walking distance from the hostel.
Ph: +46(0)303-122 22 www.moodys.nu
Hotel Fars Hatt
A west coast tavern with a 300 year old background and with fish and shellfisk as important parts of the menue.
Situated by the old square next to Kungälv's old church.
Ph: +46(0)303-10970 www.farshatt.se
Trattoria Il Trullo
Italian restaurant by the old square, next to Kungälv's old church.
Ph: +46(0)303-18390 www.iltrullo.se

Östra Tull
Nice restaurant in the same house as Ill Trullo. Ca 200 metres from the guest house.
Ph: +46 (0)303-17478