Welcome to Kungälv's Citycamping
Great location on the Gothenburg border

When you stay at our cozy campsite you are just as close to the pulsating big city life in Gothenburg as to the screaming seaguls and salty sea-bathing along the West Coast. Just a few hundred meters from the campsite you will find the bus stop "Eriksdal" where you take the bus to Gothenburg. The town center can be reached in 20 minutes and if you want to go straight to the amusement park Liseberg it takes about 35 minutes. It costs ca 34 SEK one way.

Kongelf Campingsite offers a perfect location for those who prefer to leave the car behind and reach the big city of Gothenburg with bus. We have many regular guests who chooses our campsite for the combination of a central location with a little slower pace.
As a bonus, you are staying in a lovely atmosphere with views towards Bohus Fortress and the river Nordre Älv.
NOTE! All bookings are made online.
Book online here
CARAVAN / CAMPER incl electricity
One night 350 SEK /night
2 nights or more 300 SEK/night
Subject to availability, it is possible to book via SMS until 22:00.
Read more here.
We always recommend that you prebook your stay since
we can't guarantee that there will be available spots.
TENTS
Book online
1 person 185 SEK/night
2-5 persons 350 SEK/night
Electricity SEK 50/night
If you stay here during low season it may be okay to bring the car down to the tent area. If it is peak season / fully booked, please park the car in the designated parking spaces. If you want to book a place where you are guaranteed to have space for your car, please book a regular campsite. Indicate in the comment that you have a car and a tent.
COTTAGES
Book and pay online SEK 995/night
At our campsite we have four cabins with four beds each.
Showers/toilets are located at about 50 m distance in the service house.
Note! The cabins lack water and sewage.
These cottages are equipped with two bunk beds, a small fridge, microwave, coffee maker and TV.
It has a small porch with a table and chairs for beautiful morning sun and nice evenings by Nordre Älv.
There is a parkingplace (free of charge) next to each cottage.
Bed linen / cleaning / breakfast is not included but can be purchased at an additional cost.
FOUR BEDDED COTTAGE WITH A SMALL KITCHENETTE
Book and pay online SEK 1195/night
This cottage can only be booked for a minimum of 2 nights.
This cottage is equipped with TV and a small kitchen for self catering with a cooker and fridge.
Two bunk beds and one pull-out bed. Front porch with sun from early morning to late evening.
Bed linen / cleaning service / breakfast is not included but can be purchased at an additional cost.
Extras
Breakfast 125 kr / person (children 10 kr x age)
Bed linen + towel for rent 100 SEK / set
Cleaning on departure SEK 595 / cabin
Dog additional fee 50 SEK / day
Prices above are quoted per night and includes VAT.
PLEASE NOTE!
All bookings are made online and you pay before arrival.
You check in on your own without visiting the front desk. You will receive all the information you need from us by e-mail.
Thank you so much for helping us to reduce queues and crowds!
Do you book via an external site?
Please read carefully the current booking rules on the site / confirmation.
No extra charges apply for access to shower and toilet.
For extra large tents, groups etc, please contact the reception for more information and price information.
There are currently 578 independent campsites and
615 quick stops all over Sweden. In these places, no membership or camping card is required to stay overnight.
You can search for more independent campsites in the camping directory online on www.husvagnochcamping.se
(unfortunately only in Swedish).

If you can't make it to check in before the front desk closes in the evening you can book "late check in".
Contact the staff for more information.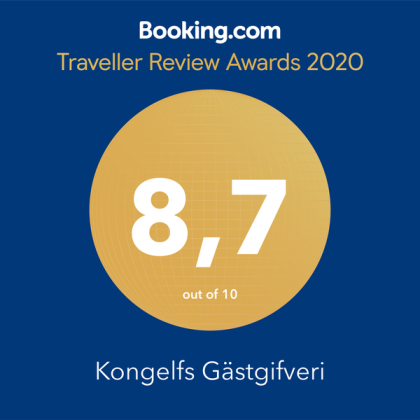 Due to the situation caused by Covid-19, we would like to inform you that we carefully follow the recommendations of the Public Health Authority and other agencies with transparency and knowledge in the matter. We have taken all the general measures recommended as well as local measures adapted to our own facility.

Please help by keeping the distance and keep being careful about hygiene.
We wish you a great stay!